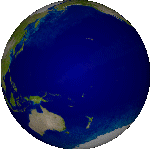 Repository of free climate data for building performance simulation
From the Creators of the EPW
October 2018 - New Simulation Climate Data Set for Africa (1513), South Asia (878), Western Asia-Kuwait (47), Southwest Pacific/Australasia (1953), portions of Europe (1352), and updated Antarctica (172)
October 2018 - Removed SWERA and KISR datasets
July 2018 - 22 Korean (South Korea) weather files are available - from PHIKO - Passive House Institute Korea
Apr 2018 - New Climate Weather Data Set for Mexico, Caribbean, Central and South America and Antarctica Available

A new simulation climate data set (TMYx) is now available for locations in Mexico, Caribbean, Central, South America and Antarctica, derived from the ISD (US NOAA's Integrated Surface Database) with hourly data through 2017. TMYxs for more than 1600 locations in the Americas are available. There may be two TMYxs for a location, e.g., MEX_MEX_Cuidad.Mexico-Juarez.Intl.AP.766793_TMYx, and MEX_MEX_Cuidad.Mexico-Juarez.Intl.AP.766793_TMYx.2003-2017. In these cases, there's a TMY for the entire period of record and a second TMY for the most recent 15 years (2003-2017). Not all locations have recent data.
Climate Files - listed in WMO Regions
WMO Region 4 - North and Central America
WMO Region 5 - Southwest Pacific
Note that some countries cross Asia and Europe boundaries.
See the News page for current status of what is available on this site and below for information about the source weather data.
Source Weather Data Sets
Click here for a description of the source weather data used on this site and the date it was last updated.
Disclaimer
Climate.OneBuilding.Org, OneBuilding.Org and the authors accept no liability for the content, quality or completeness of any data posted on this site, or for the consequences of any actions taken on the basis of the information provided.